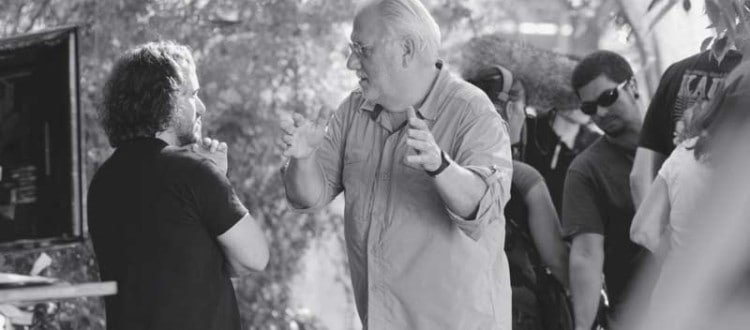 By: Sylvie Belmond | The Acorn
"It's Not a Date," a romantic comedy about a dysfunctional family and a young couple's relationship gone awry, will be on the independent film lineup this weekend at the inaugural Calabasas Film Festival.
Headlining the festival Fri. through Sun., Sept. 12 to 14 will be the U.S. premiere of "The Equalizer," a new thriller starring Academy Award-winning actor Denzel Washington.
"Equalizer" will play Fri., Sept. 12 at the Edwards Theaters at The Commons. Following the screening, there will be a discussion with the film's producers, Todd Black and Jason Blumenthal.
The festival will conclude Sunday with screenings of student films, followed by an awards ceremony.
QUIET ON THE SET—Also appearing in "It's Not a Date" is the husband and wife team of Eric and Eliza Roberts. Above, Eric Roberts takes a break duringfilming. The movie will screen at the Calabasas Film Festival.In the film "It's Not a Date, Carly (Leah Huebner) and Milo (Mischa Pollack,) a couple in their twenties, go out on a first date that escalates into a night of passion.
But rather than evolving into a romantic partnership or perhaps just a parting nod, the one-night fling ends with a frustrated Carly, who, after a life full of bad dates and the belief that Milo is the worst of them, takes her new boyfriend on a detour into insanity.
The movie is produced, written and directed by Westlake Village physician Barry Pollack. His son is 30-year-old Mischa Pollack, the leading male.
Also starring in the film are Eric and Eliza Roberts.
Think— romantic comedy meets "Misery," the wild 1990s film with James Caan and Kathy Bates in which a famous novelist is rescued from a car crash by an obsessed fan.
"It doesn't fit any one genre," Mischa Pollack said. "It's very unique; we stepped outside the box to come up with a unique movie."
Also on Sept. 12 at the Calabasas Film Festival will be a screening of a Weinstein Company film titled "Tracks," starring Mia Wasikowska and Adam Driver, who will appear in the next "Star Wars" episode.
"Tracks" is the story of a young woman who goes on a 1,700-mile trek across the deserts of the Australian Outback with her four camels and faithful dog.
The festival will conclude Sunday with screenings of student films, followed by an awards ceremony.
A family affair
After graduating with a master's in film from Stanford University and becoming one of the first fellows at the American Film Institute 40 years ago, Barry Pollack thought his career as a filmmaker was off to a solid start.
At 24, Pollack had written and directed his first feature film, "Cool Breeze," released in 1972 by MGM.
Pollack was working on a second screenplay with his writing partner, David Chase, who would create "The Sopranos" decades later. But that second film flopped.
"There were months of unemployment, and rejection after rejection. . . . I just didn't have the staying power for an egowrenching business," said the frustrated filmmaker, who left the movie business to attend medical school.
"I couldn't get arrested in Hollywood," he said.
So he became an emergency room physician, but kept writing for television. Pollack, 67, also wrote two novels and was a newspaper columnist.
When his youngest son, Mischa, an Agoura High School graduate, expressed an interest in acting, his father tried to dissuade him.
The young Pollack complied and went off to Stanford where he earned a master's degree in aeronautical engineering.
But he never lost the acting bug.
Last year, Mischa Pollack put his engineering career on hold and returned to the stage.
He landed the lead role of Jean Valjean in the 2013 production of "Les Miserables" at the Moorpark High Street Arts Center.
"With his leap into the fire, I jumped in with him," Barry Pollack said.
Father and son collaborated on "It's Not a Date" with Mischa Pollack cast in the lead.
The doctor and his wife, Margaret, have three children. Margaret Pollack was co-producer of the film, which cost about $200,000 to make.
"Since this is a story about 20-somethings, all my children were ( also) instrumental in developing the story," Barry Pollack said.
His other son, Joshua, a musician who is completing chiropractic college, performed some of the music for the film, and his daughter, Emma, a former television producer who is now a dentist in New York, returned home to assist on the shoot.
Mischa Pollack calls his the "most incredible family in the world."
" It's Not a Date" will be screened at 1:30 p.m., Sept. 13 in the Viewpoint School auditorium. The film is rated for audiences age 17 and up. The cost to view the screening is $15. "Tracks" will be shown at 7 p.m.
"With our city's rich history of film, TV, theater and musical production and local talent, the Calabasas Film Festival is a natural," said David Shapiro, Calabasas mayor.
The city and Bob Smith BMW/ Mini are the festival hosts.
article source: http://www.theacorn.com/news/2014-09-11/Community/Roll_out_the_red_carpet.html
picture credit: CALABASAS WELCOMES NEW FILM FESTIVAL—On the set of their new movie "It's Not a Date" is the father and son team consisting of Westlake Village physician Barry Pollack (center), who produced, wrote and directed the film, and actor Mischa Pollack, 30, (left) who stars as the character Milo. The film is one of several independent movies being screened at the inaugural Calabasas Film Festival this weekend.