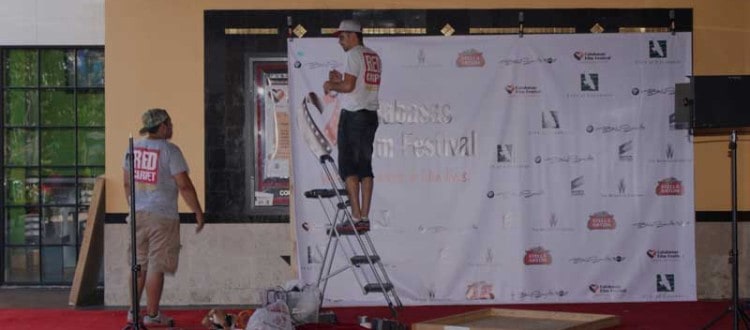 Curtain Up for Inaugural Calabasas Film Festival
by: Bob Strauss | Contra Costa Times
You don't have to be big to be impressive. The first Calabasas Film Festival, running Sept. 12-14, won't show a lot of movies, but what's there is choice.
Festival director Kelley Fries and co-director Natalie Khoury, both from the Calabasas-based production company Pelagius Entertainment, have arranged a red-carpet Hollywood premiere, some intriguing features and documentaries and the best student films from local schools in what they hope will be the first of many festivals to come.
Friday's opening-night entry is the new Denzel Washington crime thriller "The Equalizer," costarring Chloë Grace Moretz, which screens at the Edwards Grand Palace at The Commons, with a VIP after-party in the plaza at Calabasas City Hall.
"We're very excited to bring that to the city of Calabasas because premieres of that caliber never happen. This is probably the biggest event in Calabasas' history!"
"Through our industry connections, we were able to secure the U.S. premiere of 'The Equalizer,' " Khoury enthused. "We're very excited to bring that to the city of Calabasas because premieres of that caliber never happen. This is probably the biggest event in Calabasas' history!"
Saturday night's special screening — and after-party — is for the new Australian film "Tracks," starring Mia Wasikowska and Adam Driver in the true story of a young woman who crossed the Outback with camels.
During the day on Saturday, the festival will show the acclaimed documentaries "Alive Inside," about the transformative power of music, and "Love Me" — which mines Ukraine's underground mail-order bride industry — as well as the raunchy comedy "It's Not a Date" by local father-and-son directors Barry and Mischa Pollack. These and the rest of the day's programs will screen at the Viewpoint School.
"They're not for kids," Khoury acknowledged of some films' edgy themes. "The school knows what's coming. I asked them, like, 100 times, because I know 'It's Not a Date' has a famous porn actress in it and things like that.
"They said they're OK with it. You obviously just have to put 'adult content,' and you have to be over 17 to watch."
The more family-friendly student film program, which includes an awards ceremony, will take place Sunday afternoon in Founders Hall at the Civic Center.
Fries and Khoury credit Mayor David J. Shapiro with the idea for the film festival, though he's a bit more circumspect. "I don't want to take all that credit," he said. "I am the one who suggested it, but they have been the ones who have really pursued it."
So, why a film festival in Calabasas?
"Obviously, we have a lot of people in the industry who live in our city, whether they're behind the cameras, in front or in other capacities," said Shapiro, whose city is a presenting sponsor of the festival along with the Bob Smith BMW and Mini dealerships.
"Our city supports the arts in our schools — we have concerts in the park, and we have an amazing performing arts center. I just think it's a perfect fit."
Organizer Fries, who grew up in the community, couldn't be more stoked about the notion of Calabasas Film Festival.
"I went to film school at UC Santa Barbara, and being that Natalie and my dad, Joe, are business partners in the production company, I tagged along when they went to Sundance and other film festivals," she said.
"I've always had this desire to one day have my own and put on a fantastic film celebration and party."
For more information and tickets, visit www.thecalabasasfilmfestival.com/.
source: http://www.contracostatimes.com/news/ci_26487473/curtain-up-inaugural-calabasas-film-festival